Jan 5, 2021 04:08 PM Central


Congrats!
This is the FIRST step to changing to an eco-friendly lifestyle! Literally, the thought of you changing the way you do things to better this planet is the FIRST STEP!!
Let me just tell you that you DO NOT need a big bank account to do this. So yes, even YOU can be more eco-conscious on a single income!
I began this journey not even realizing I was being eco friendly. It is kind of funny if you really think about it.
I chose to use my reusable lunch box for work and glass containers for food when at work. I would rinse them out at work then bring them home to wash. I never threw anything out; I never left a carbon footprint because I re-used it.
Make your partner lunch next time and see what they say.
TIP#1
REUSABLE LUNCH CONTAINERS for work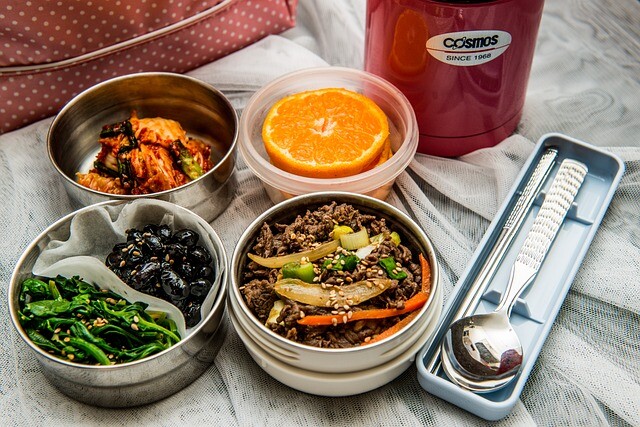 You can rinse them out, wash them (if washable of course), they will keep your food fresh, and you leave nothing for the trash cans!
You can even use it not just for your lunches! If you have little ones, it can become a snack container, toy holder, dirty laundry bag, etc. the list can go on but I think you get the point. *wink!
TIP#2
GO PAPERLESS!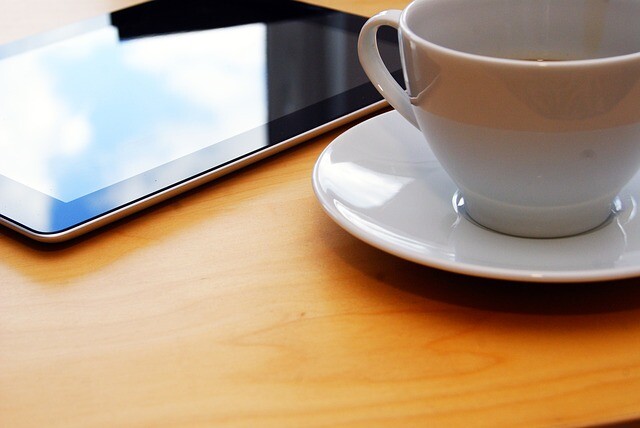 Yes. It seems like a given these days because of email and whatnot. However, this can be a HUGE gamechanger for you!
Monthly bills most of them, give you the option to go paperless. Just take the time to find the settings option on the site and turn it on. You can also call and ask for this option when talking with customer service personnel.
Fact: Going paperless
, you can save 17 trees, 26000 liters of water, 4000 kilowatts of power supply, and 240 liters of fuel. WHAT??!!
Does water make paper?? YES! 5 liters of water can produce just ONE piece of paper!!!
TIP# 3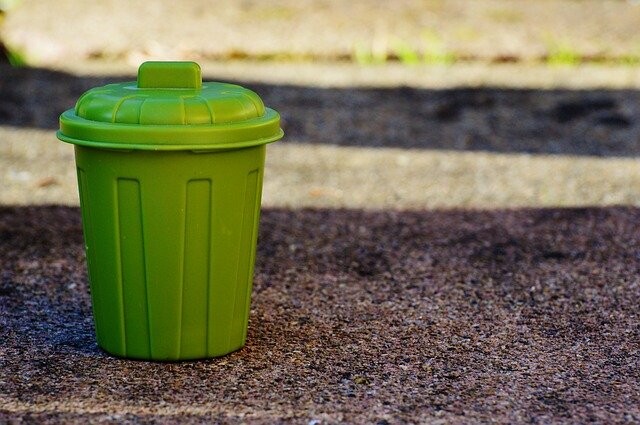 Yes. Your little tiny garbage pails in the bathroom or in the office, do not really need a little trash liner.
Yes, it is easier to just grab, tie and throw out BUT that is one piece of plastic that won't be food to marine life, which in turn can kill the last of an endangered species; OR stuck on the coasts on the other side of the continent for another to pick up and sit in their landfill.
Guys. It's JUST STUPID. Rinse out the pail and replace it. (Don't throw food in there in the first place...lol).
TIP# 4
THRIFTING IS THE GOLD STANDARD OF BEING GREEN!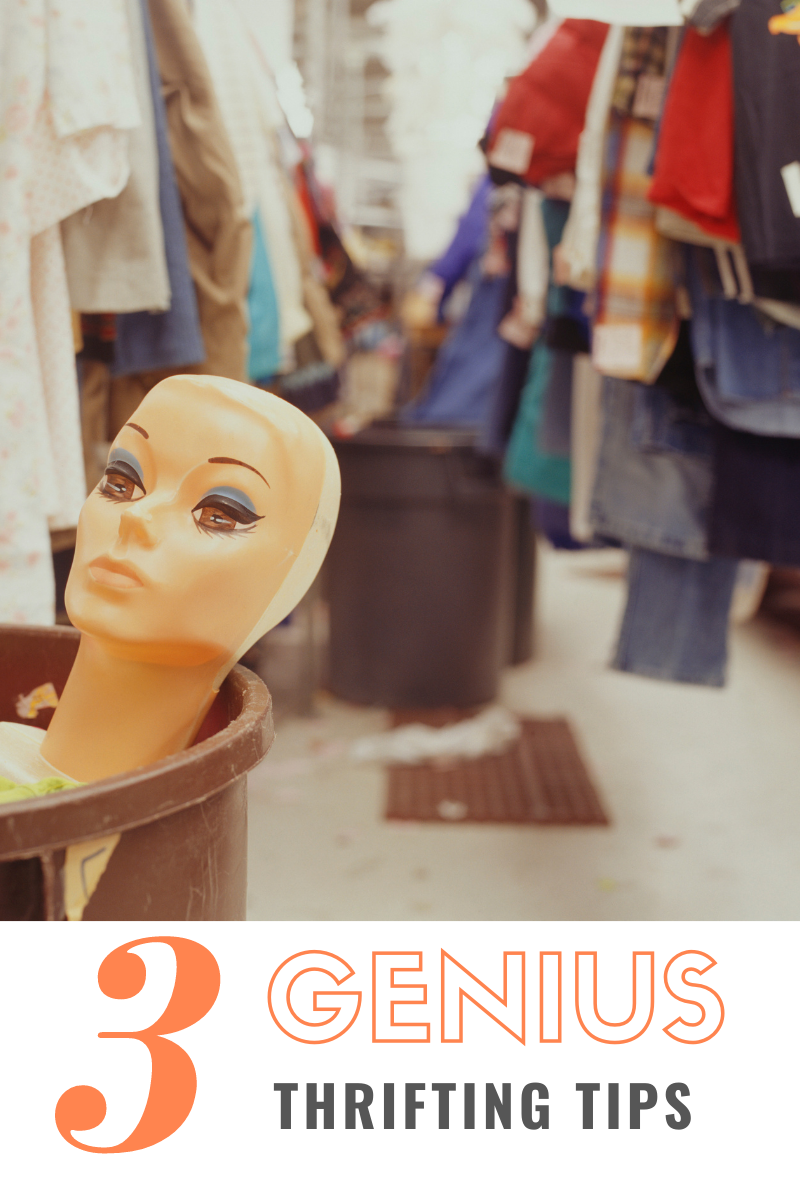 If you haven't read my blog post on thrifting, click the photo above!
Donate your unused clothes, toys, cooking utensils, furniture, Tupperware, flatware, the list is forever long. But seriously, you can find all of the above at our local thrift store.
And s some in great condition, I might add. The key is consistency. You have to go a few times a week to see the new items coming in because those are the ones that go quickly.
Going seldom like a few times a month, will not get you to the GOLD!
TIP# 5
RINSING OUT YOUR RECYCLABLES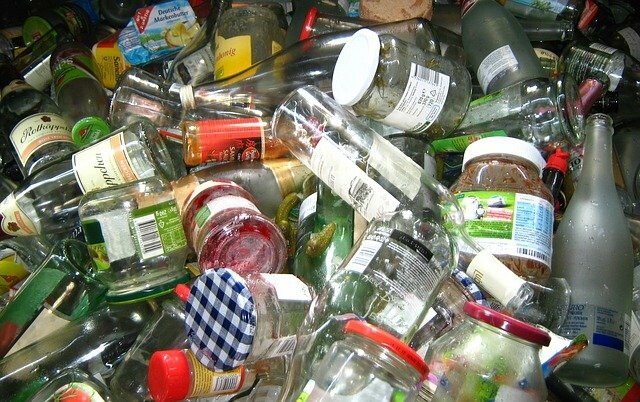 I'm sure you don't even realize it. Because I didn't.
When you recycle, it goes into one big recycle bin. Then in the truck; all together-glass, cardboard, aluminum, paper.
Friends, this has to be separated and sectioned into the correct area to be properly recycled into that new item.
They cannot do this when your spaghetti sauce from dinner Thursday night is still lining the glass container......
So make sure to rinse out your recyclables BEFORE you recycle them in your big blue container (or whatever color your recycle can is).
You can have them sit with water to loosen up the food and reuse that water to fill another container with leftover food in it. Yes. That sounds gross but you don't have to waste water refilling each new container.
(See there, I just gave you an extra tip....shhhh don't tell anybody. Just have them come to this blog post to get it)!
And there you have it. You officially have a
GREEN THUMB
and are on the way to leaving less of a carbon footprint!!
Hope you have a wonderful holiday and a better 2021!!
To subscribe for more tips on being GREEN or want in on the FREE stuff,
click here!
Lauren aka The Jeeper Mom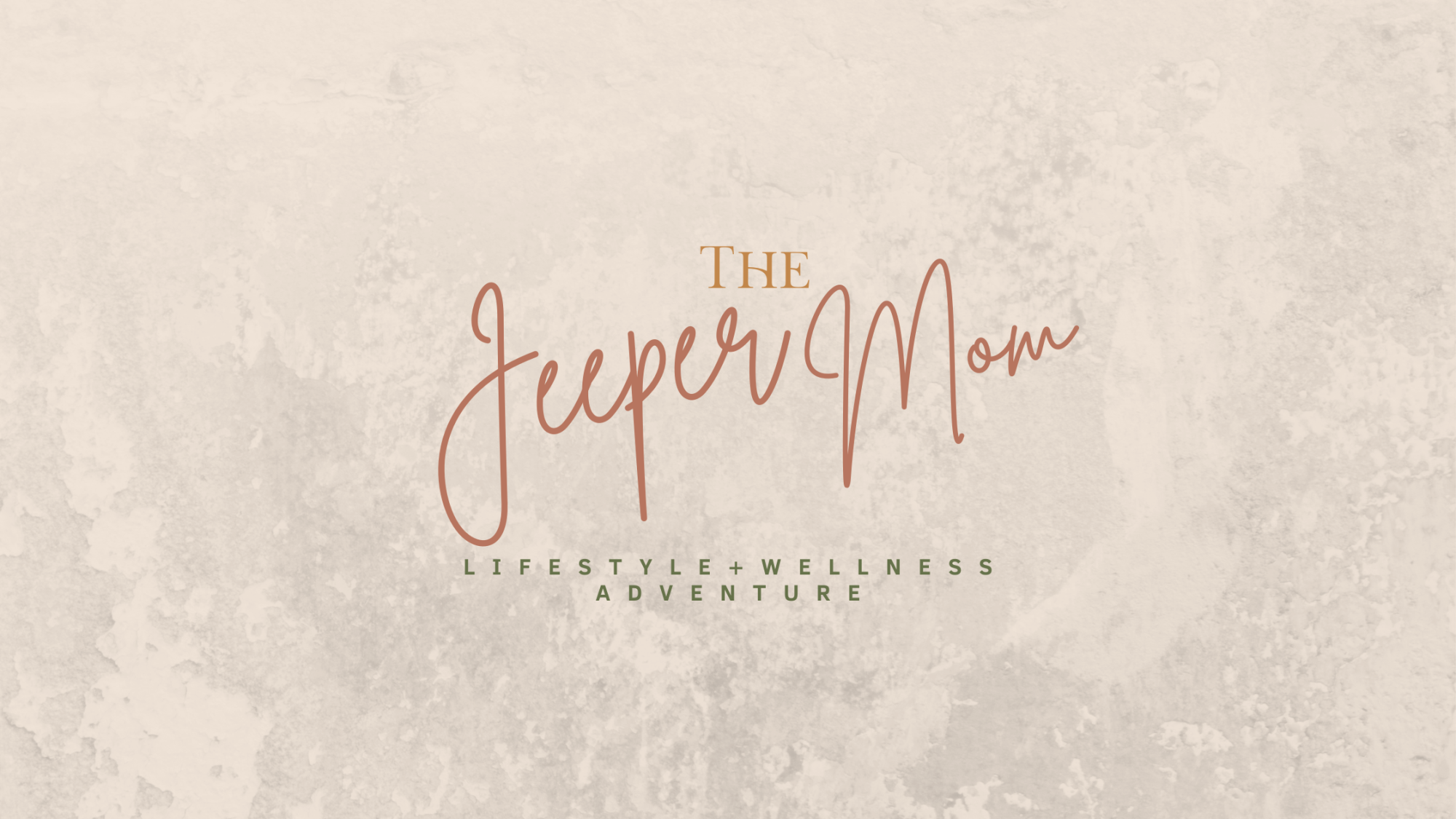 HEY WAIT!!!!!
***I have a great FREEBIE for you to print out and have as a reminder (because it can be tough to remember to do something that is a new habit).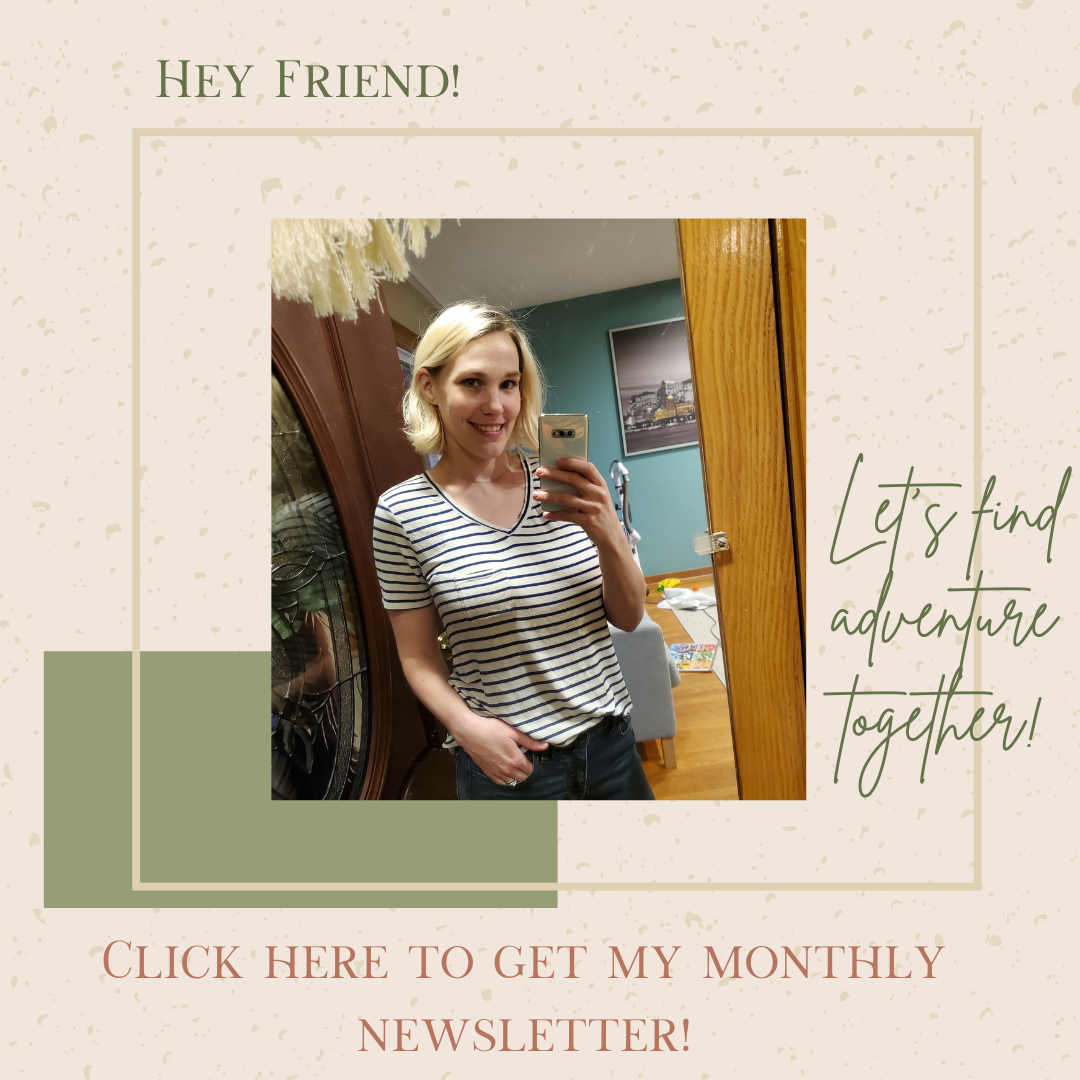 Dec 16, 2020 02:06 PM Central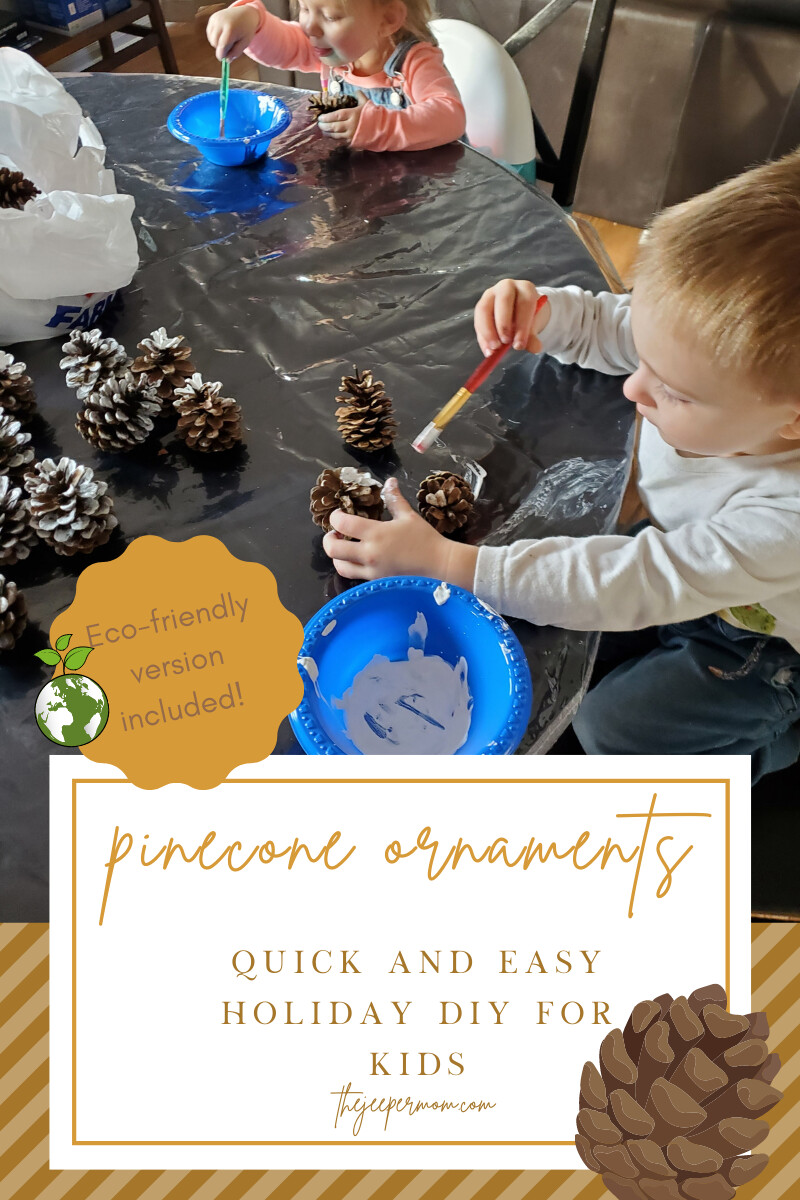 I wanted to share with you something I thought was the most fun while staying at home and celebrating the holidays!
All you will need for this project is:
white paint

paintbrushes

pinecones

newspaper or mat
First, let's just gather your materials. We had a fun search and counting activity while collecting our pinecones. We took a bucket or wagon and counted all the pinecones as we picked them up. Ollie had the job of counting and taking the ones who were less likely to fall apart on us later.
Fiona was able to pull the wagon for us as we moved along collecting.
This helps with inclusion and a 'job' for everyone. Helping is a toddler's main goal at this age and this was the perfect opportunity to do so.
We sat down and placed the mat underneath their workspace. I spread the pinecones down. I had the white paint already in little bowls and paintbrushes at the ready.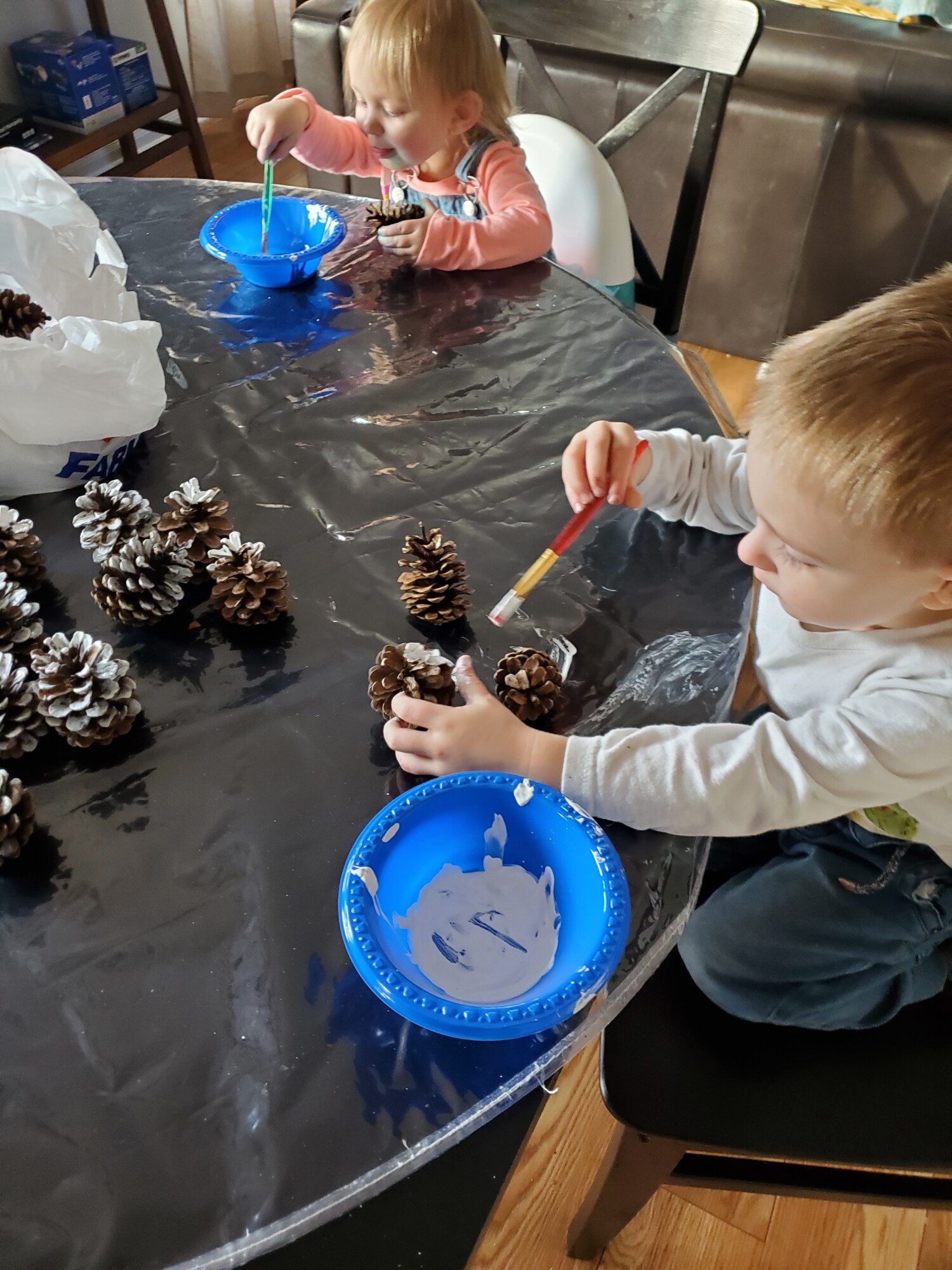 I showed them what they should do and then let them at it. They had a blast painting and getting messy and knowing clean up would be easy, I was less worried.
This was the easiest project to do with kids. It can help bring out their creativity!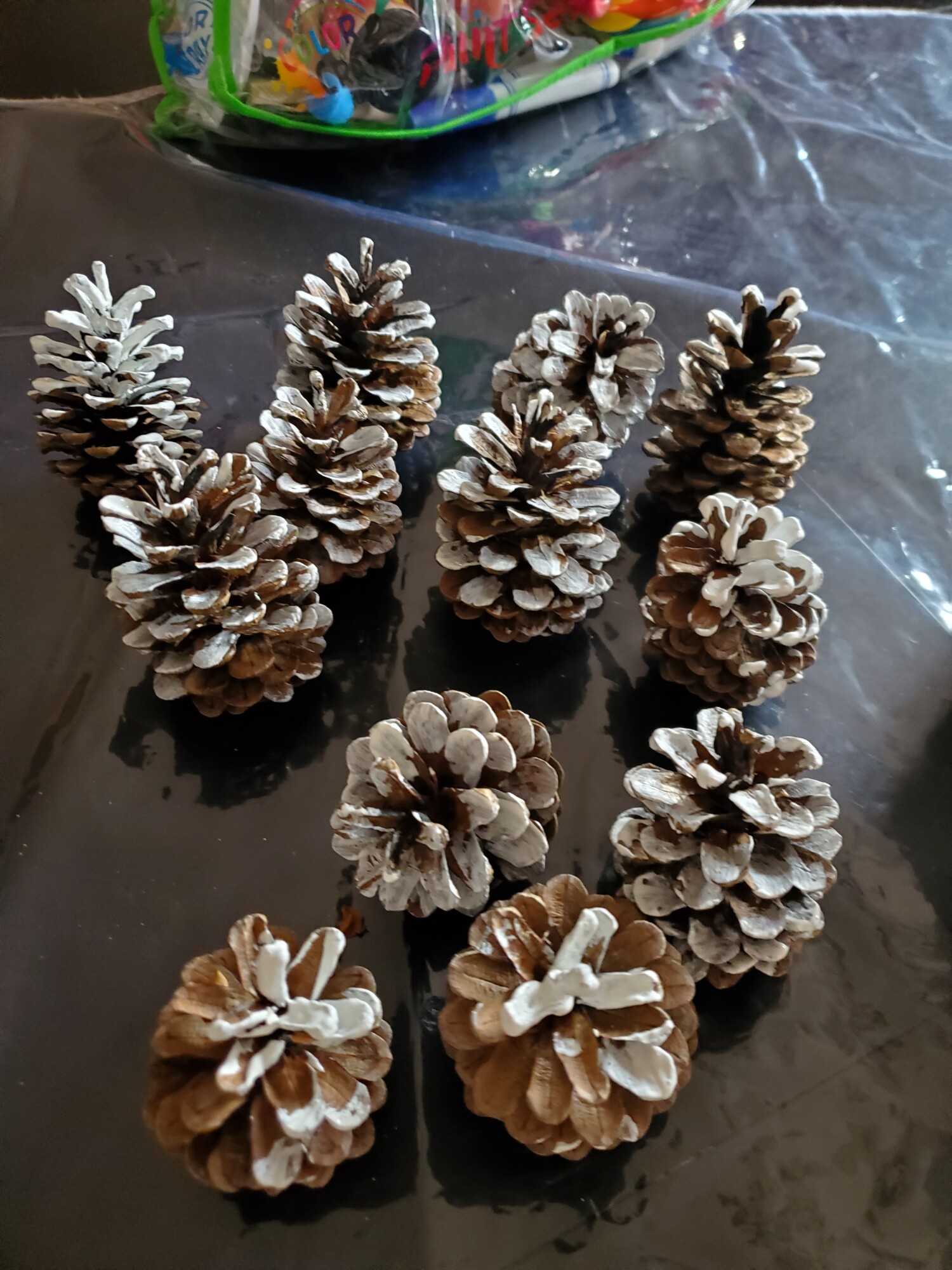 There is also a fun eco-friendly version for those who would like to try or if you don't have the paint on hand.
For this version, you'll need:
pinecones

water

flour

salt

2 bowls

mat or newspaper
Mix flour and water to make a paste-like mixture. Let this sit for a few minutes so it can get a little tackier.
Then, take your pinecone covered in the wet flour mixture, and roll it, lightly, in the bowl of salt. TA-DA!!! Let sit to dry some more and you have an easy, kid-friendly, and earth-friendly decoration for the holiday! (great as a gift or memory item too)!
Tie a string or do what we did and just stick it in your Christmas tree to stay! The look is beautiful and as though you had a little snowfall!
So tell me what you think and if you have a fun DIY you have discovered, share it below!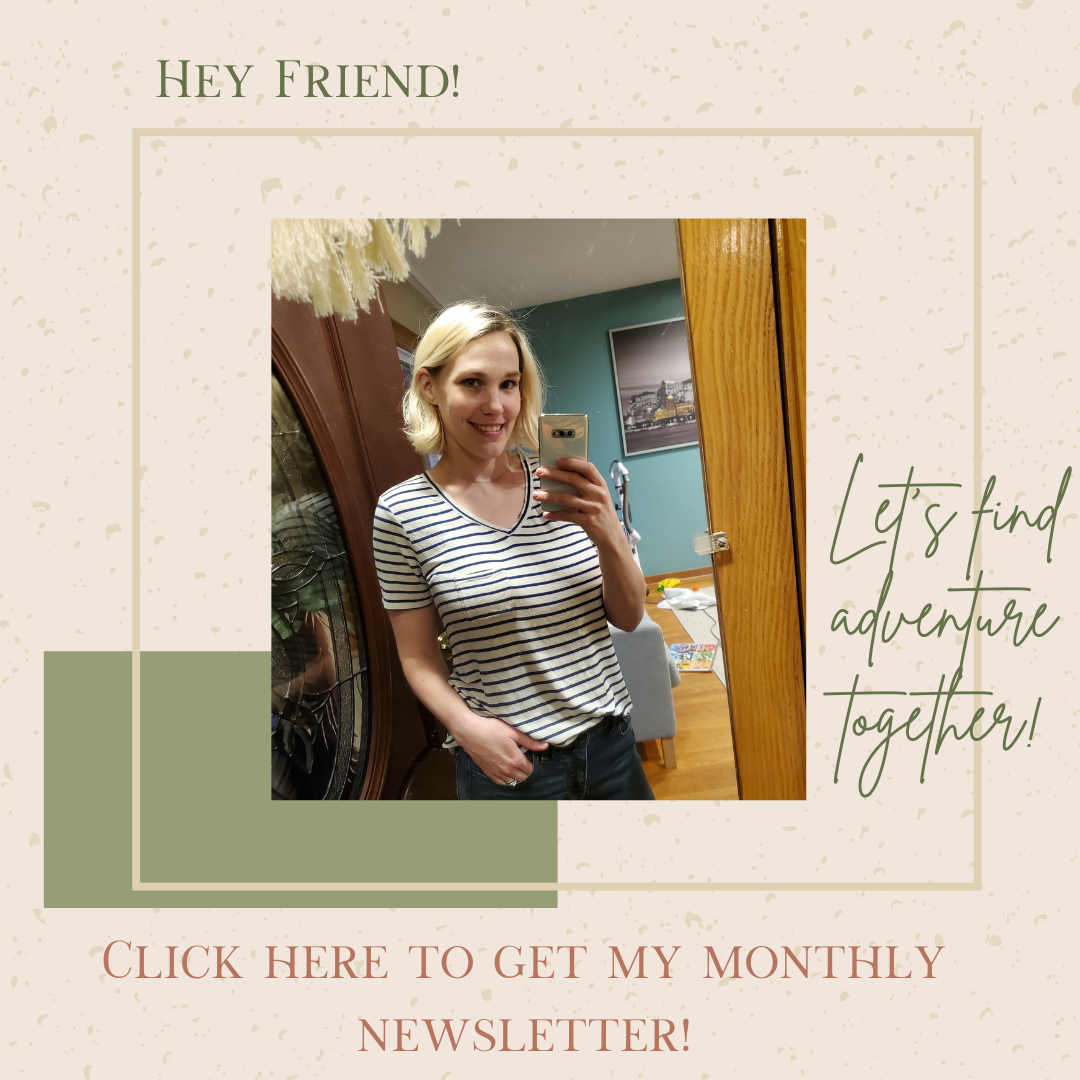 Nov 30, 2020 11:54 AM Central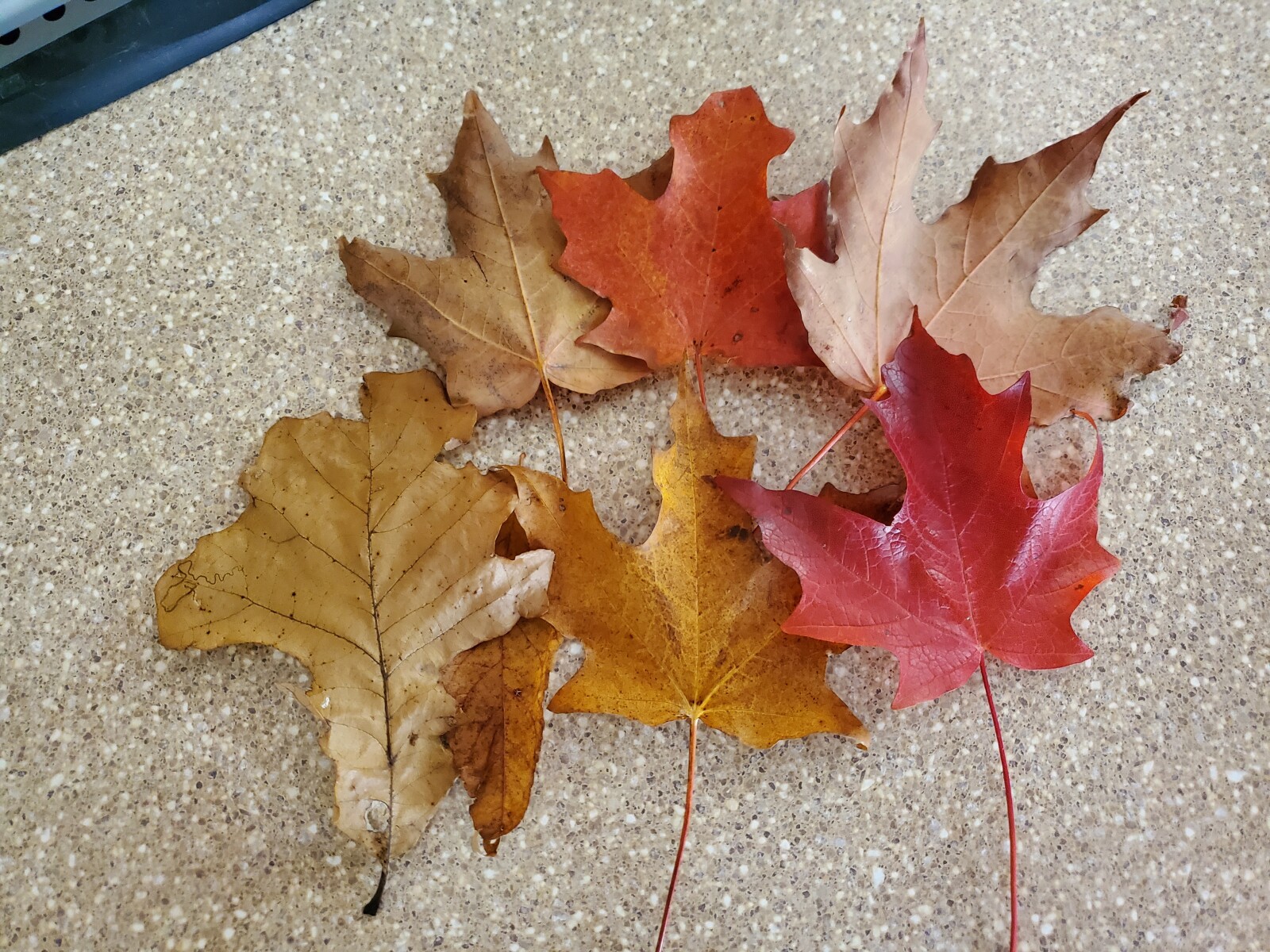 Hey!! Welcome back! (I know it's been sometime...)
Can you believe fall is practically over? I think some..... well most of us can! 2020 NEEDS to be over!
But if your the type of person that still enjoys Thanksgiving before you decorate-this was me, check out this fun activity I did randomly one day with only nature and a hole puncher!
I know it seems so simple but with toddlers, everything can be a task.
🍁🍂How to Make eco-friendly party confetti!🍂🍁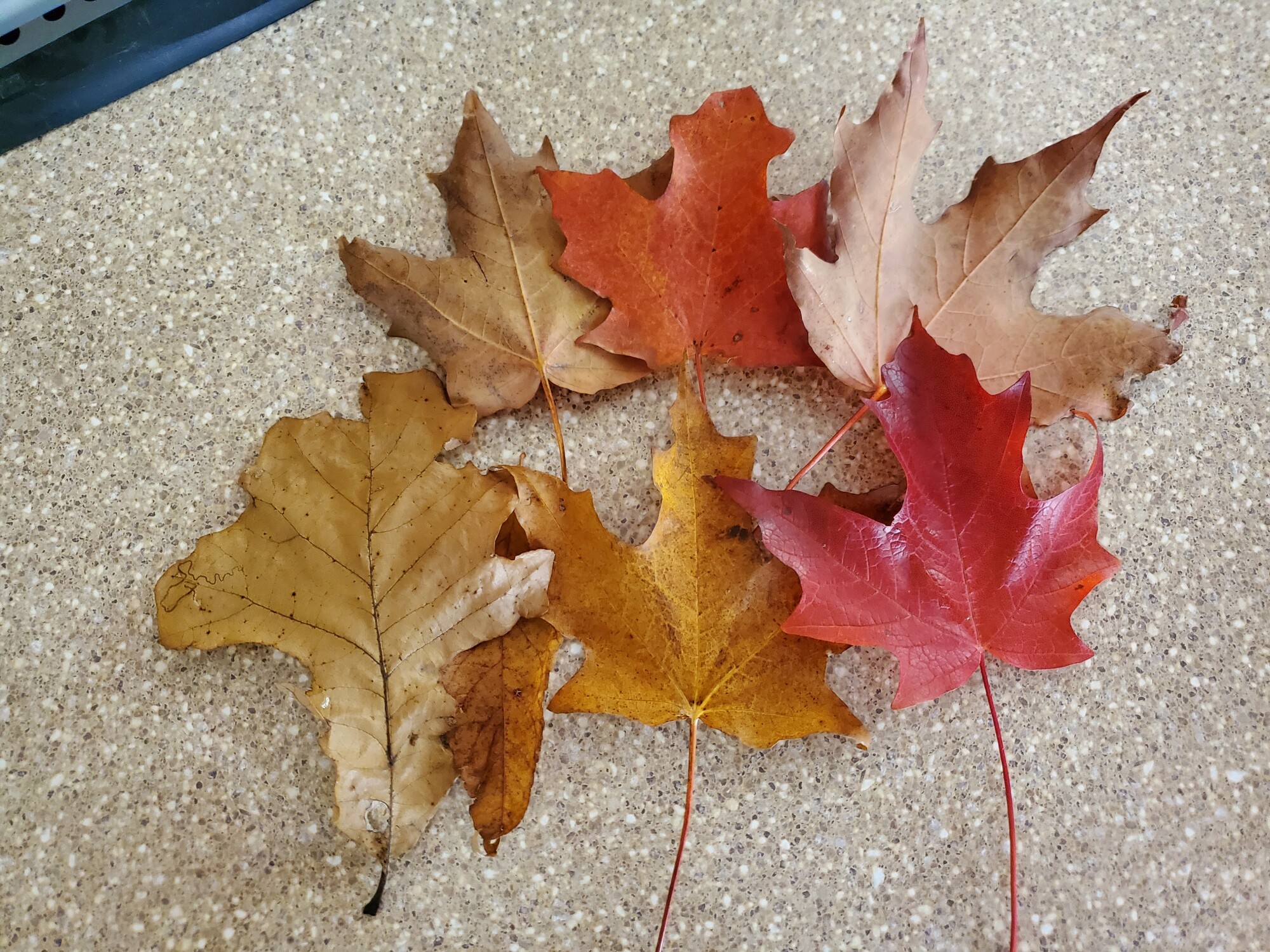 1. Collect your leaves, all colors, all shapes because really-it doesn't matter.
2. Use what you already have in your office or the dollar store will have it. Use your hole puncher and punch as many wholes in all your leaves! Let your toddler do this. He/she will love that they are involved in a project. f course, keep an eye on them but let them be messy and just have some fun!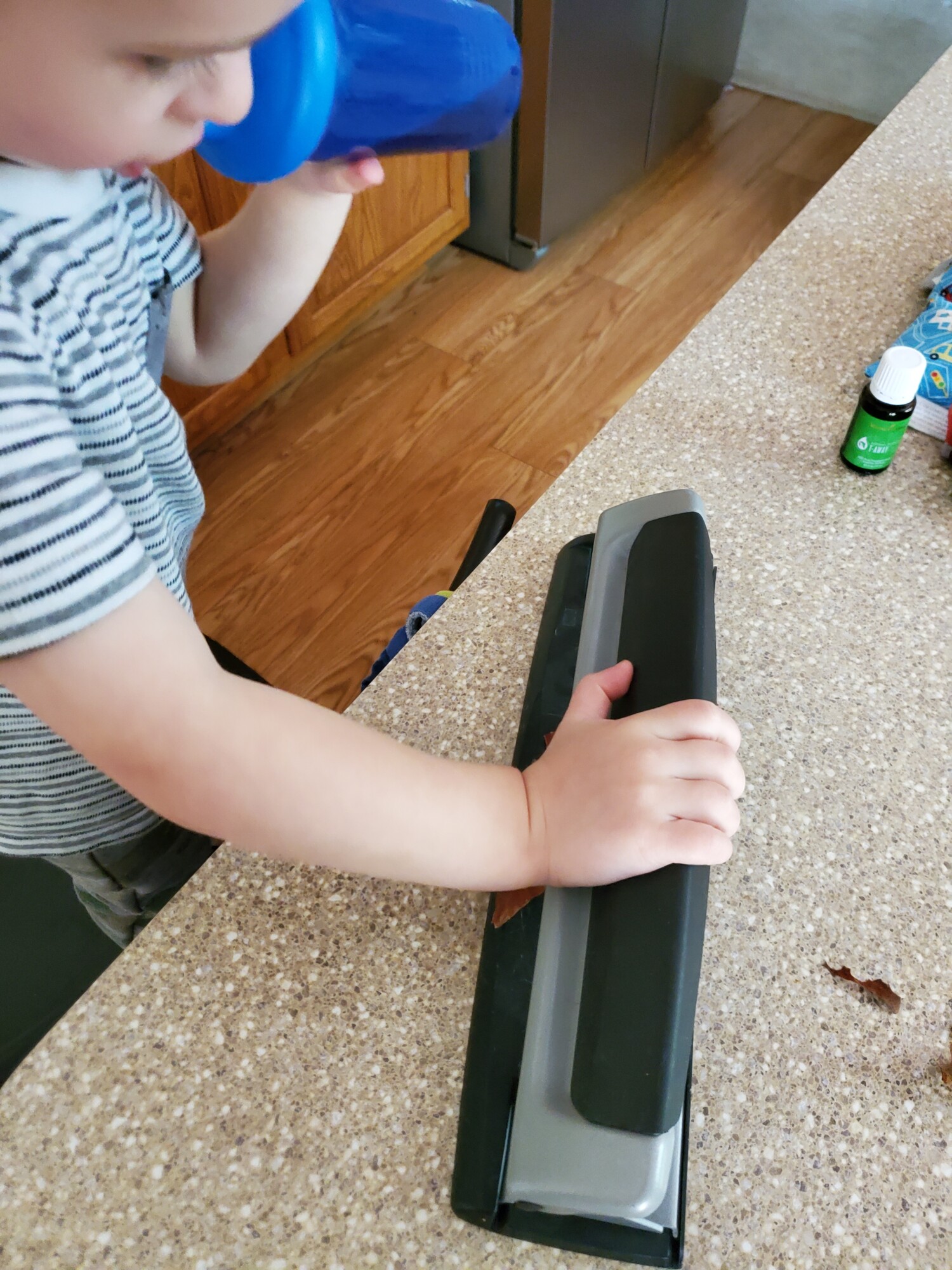 3. Open the hole puncher and collect the little tiny circles. At this point, you can have them separate all the pretty colors into piles-this helps with learning their colors & fine motor skills!
Place them on a napkin, in your hands or make it really fun by placing them in a toilet paper cardboard roll and wrap the ends with newspaper ads & tie the ends.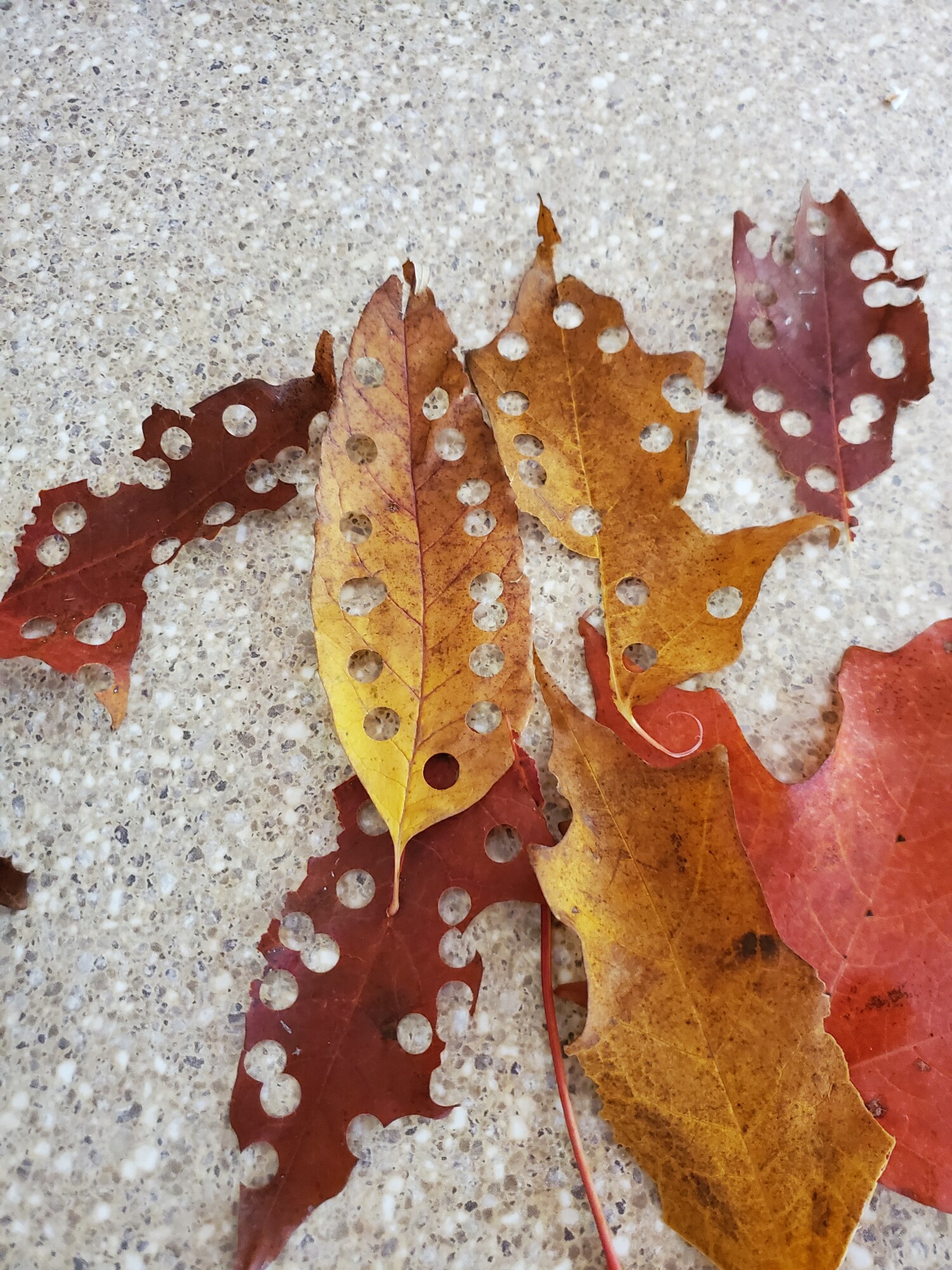 4. Countdown to 1 or throw them in the air in a celebration! This will help your little one learn their counting skills, gross motor skills, and facial recognition of 'happy.' (they are still learning to read facial expressions at this age so this is a great learning skill)! Celebrate your child's chores, sharing, eating all their lunch, or whatever you want! (Here it's potty training)!
Secretly leveling up your parenting skills and your littles are gaining in their learning skills! And all the while you are saving money and the environment!
Check back with me in the next couple of weeks because there is going to be a HUGE giveaway on my platforms so click below and follow to hear the latest announcements of what you can win and see if you are the winner!!